Fontana Celebrates Hispanic Heritage Month with La Gran Fiesta Event
Image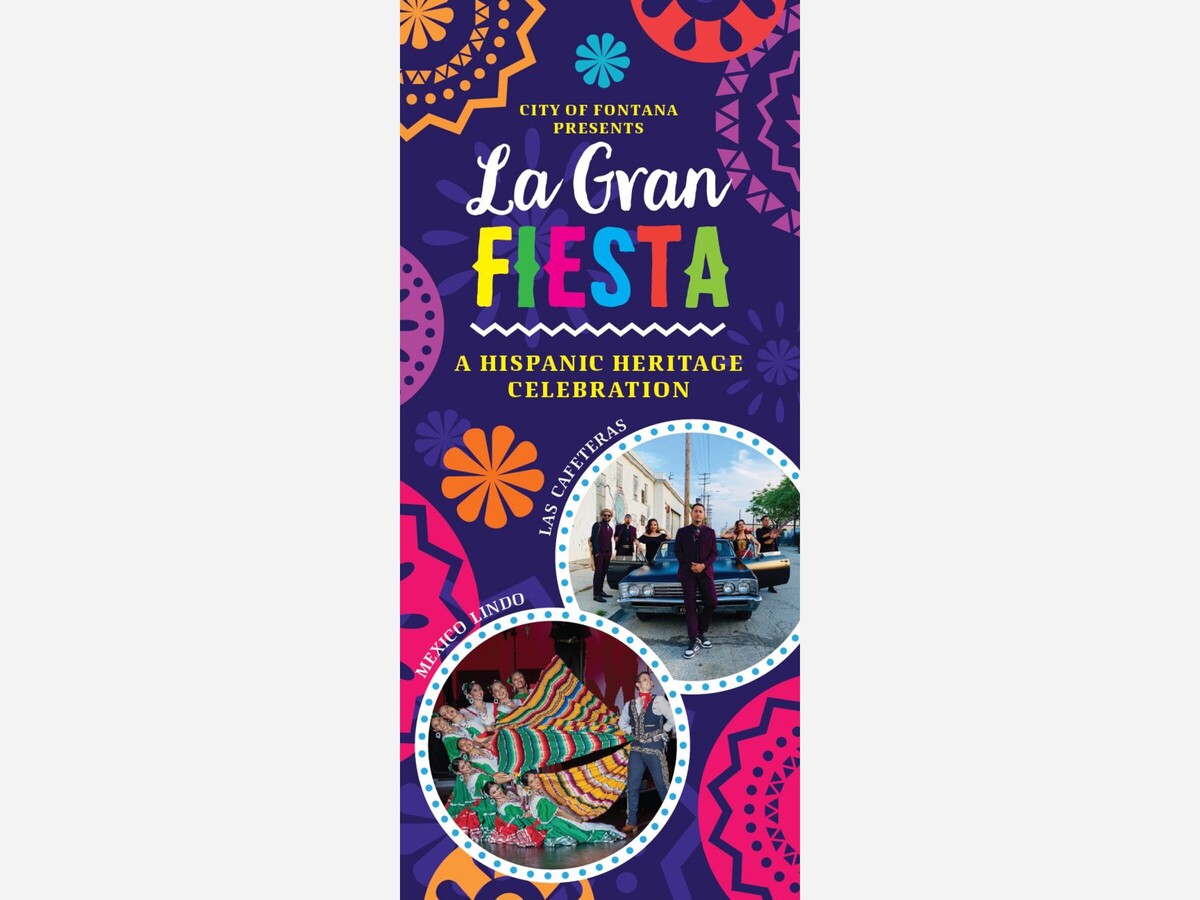 The City of Fontana is organizing La Gran Fiesta, a vibrant event to celebrate the Hispanic Heritage Month. The free, family-fun event will be held on Saturday, September 18, 2021, at Miller Park Amphitheater, located at 17004 Arrow Blvd., in Fontana, from 5 p.m. to 8 p.m.
The captivating programming will feature artist and community booths, a main stage, interactive art activities, loteria game, and delicious food & beverage options. The hands-on art activities highlight artists from a variety of Hispanic countries. Eventgoers can also purchase art pieces and specialty items at the artisanal shopping area and explore a wide selection of flavorful Hispanic food and beverage choices at the food booth area.
Attendees are encouraged to bring lawn chairs and blankets to relax and enjoy dazzling stage performances featuring event headliners Ballet Folklorico de Los Angeles and Mariachi Garibaldi de Jaime Cuellar perform Mexico Lindo (a renowned Mariachi and dance company) and Las Cafeteras (Mexican Folk Fusion Band), described by the Los Angeles Times as "a uniquely Angeleno mishmash of punk, hip-hop, beat music, cumbia and rock."
Other performers include La Sole Flamenco and Fontana High School's Mexican Folklorico Dance Club.
The event includes artisanal shopping interactive art activities for all ages and delicious food and beverage vendors.
Entertainment Schedule:
5:00 p.m. - La Sole Flamenco
5:30 p.m.- Las Cafeteras
6:40 p.m.- Fontana High School's Mexican Folklorico Dance Club
6:50 p.m. - Mexico Lindo
For more information about La Gran Fiesta, please contact Fontana Cultural Arts at (909) 349-6975 or visit www.Arts.Fontana.org if interested in becoming a vendor at the event.